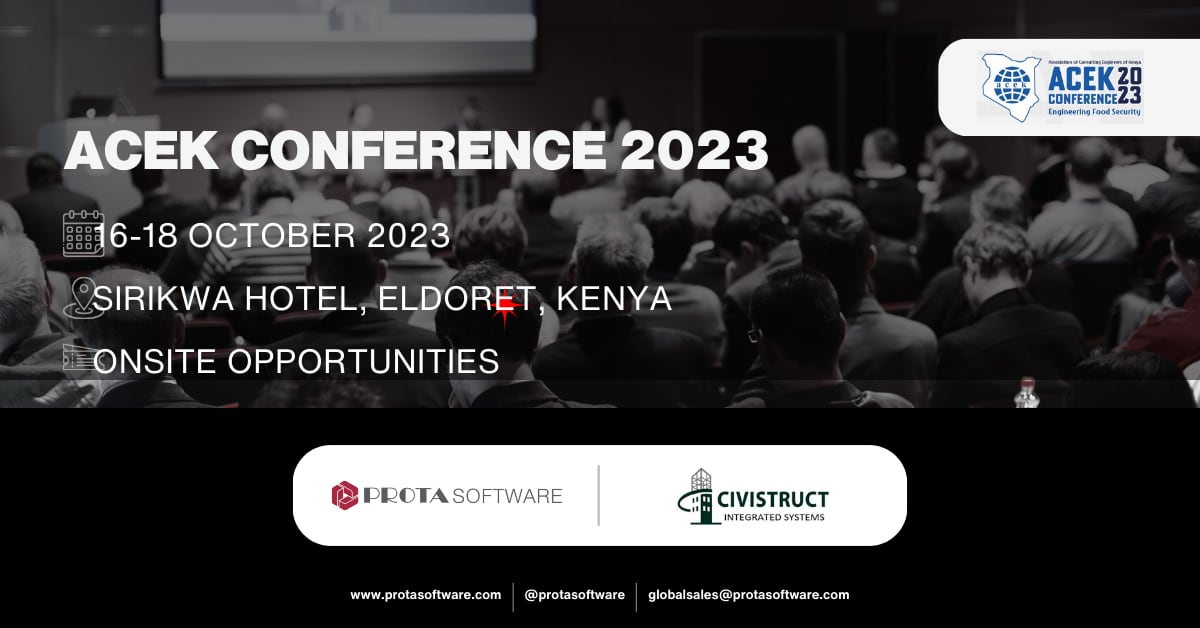 Eldoret, Kenya - 16th to 18th October 2023 - As the countdown to the ACEK 2023 Conference begins, we at Prota Software are excited to announce our participation in this prestigious event. Set to be held from the 16th to the 18th of October in Eldoret, Kenya, this conference not only serves as a beacon of knowledge and innovation in structural engineering but also provides attendees the opportunity to earn 20 Professional Development Units (PDUs).
Our leading product, ProtaStructure, stands out as a groundbreaking structural analysis and design software. Its uniqueness lies in its innovative integration with Building Information Modeling (BIM), enabling structural engineers to model, analyze, and design buildings with unparalleled speed and precision. This centralized model offers the versatility to effortlessly compare various schemes, automate steel and reinforced concrete designs, and carry out steel connection design, drastically cutting down project delivery time with the assistance of our dedicated steel structure detailing and connection design software, ProtaSteel.
But the innovation doesn't stop there. With ProtaDetails and ProtaSteel integrated into the suite, producing high-quality structural drawings and comprehensive design documentation becomes a breeze. Moreover, the software's intelligent BIM technology ensures that project coordination is seamless, making collaboration and data sharing more efficient.
To our valued professionals in the architecture and construction domain, especially in Africa, we invite you to join us in Eldoret. Dive into its exceptional features with guidance from our respected partner, CiviStruct Integrated Systems Ltd! Experience firsthand the transformative capabilities of ProtaStructure, and let's together envision a future enriched by technology and collaboration.
For detailed interactions or to set up meetings, feel free to reach out to our global sales team at globalsales@protasoftware.com .
Secure your place now for the ACEK Conference 2023 featuring expert presentations across various disciplines. Plus, when you visit our booth, you'll receive an exclusive 20% discount and flexible payment options for your initial ProtaStructure Suite license. Don't miss out!