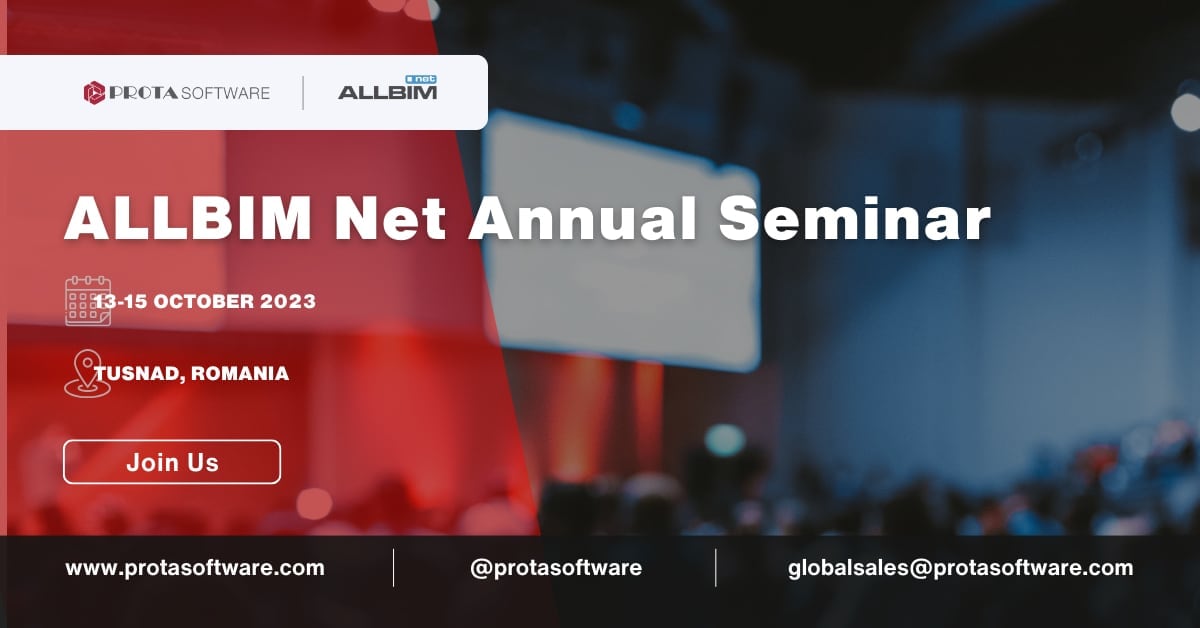 As technology and construction intertwine in increasingly intricate patterns, the annual Seminarul Anual ALLBIM NET 2023 stands as a beacon for professionals. Scheduled from 13th to 15th October at the magnificent Hotel O3Zone in Băile Tușnad, it promises a deep dive into the evolving AEC world.
Unveiling Prota Software's BIM Innovations at ALLBIM NET 2023
As the AEC sector evolves towards full-scale digitalization, the role of Building Information Modelling (BIM) becomes paramount. Here, Prota Software stands out as an industry trailblazer. Our flagship solutions, ProtaStructure Suite and ProtaBIM, are not just software; they're the future of seamless BIM collaboration. Specially crafted to sync across top BIM platforms, they promise smooth, efficient collaborations, redefining construction dynamics.
The Stellar Features Prota Brings to ALLBIM NET 2023
BIM Collaboration: With ProtaStructure Suite and ProtaBIM, attendees can experience first-hand the prowess of advanced BIM technology, thanks to their bi-directional compatibility with renowned BIM formats like Revit, IFC, DXF, SAF, among others.
Holistic BIM Integration: Say goodbye to the countless hours spent re-creating model data. With Prota Software, precise model sharing with major BIM platforms, including Autodesk Revit, ArchiCAD, SCIA Engineer, and the much-anticipated Allplan 2024, becomes a breeze.
Adherence to BIM Standards: ProtaStructure's adeptness in importing and exporting IFC, 2D/3D DXF, and SAF files ensures impeccable interoperability, mirroring the seminar's essence of fostering industry collaboration.
Unparalleled Innovation & Analysis: The ProtaHUB technology is not just about creating models. It's a blend of innovation and analysis, allowing professionals to craft and validate models against other platforms.
Empowered Learning & Support: Keeping pace with the event's theme of "Lucrul în echipă" or teamwork, Prota Software guarantees a rapid learning trajectory, underlined by in-depth in-product guidance and exceptional professional backing.
Dive Deep with Prota at ALLBIM NET
The event is poised to be a melting pot of insights and hands-on experiences. On 13th October, Mustafa Tümer TAN will introduce the groundbreaking features of ProtaStructure and unravel the potential of ProtaSteel. The following day, attendees can immerse themselves in a comprehensive workshop focused on the intricacies of ProtaStructure.
For a more in-depth look at the event schedule, visit this link.
Final Thoughts
It's more than just an event; it's an opportunity. An opportunity to network, to learn, to experience, and to evolve. With Prota Software playing a pivotal role at the Seminarul Anual ALLBIM NET 2023, attendees are in for a transformative journey in the world of AEC.
Hungry for more? Secure exclusive offers and discounts by contacting us or dive right in and try our solutions for free.


Prota Software Event Schedule at Seminarul ALLBIM.NET
Venue: Băile Tușnad
Join us this October at the esteemed Seminarul ALLBIM.NET, where we'll showcase the advancements in Building Information Modelling (BIM) and unveil the capabilities of ProtaStructure in this domain.
13.10.2023
16:35 - 16:50: Introduction to ProtaStructure
Speaker: Mustafa Tümer TAN
Duration: 15 minutes
Description: Explore the innovative features of ProtaStructure and its pivotal role in modern BIM practices.
16:50 - 17:00: Spotlight on ProtaSteel
Speaker: Mustafa Tümer TAN
Duration: 10 minutes
Description: Uncover the vast potential and functionalities of ProtaSteel and its symbiotic relationship with BIM.


14.10.2023
14:00 - 15:00: ProtaStructure Workshop - ROUND 3
Duration: 1 hour
Description: Delve deep into the technical facets of ProtaStructure. This session will cover technical analysis, structural computations, design, modeling, analysis, and architectural visualization. Be a part of this engaging workshop and experience firsthand the transformative power of ProtaStructure.